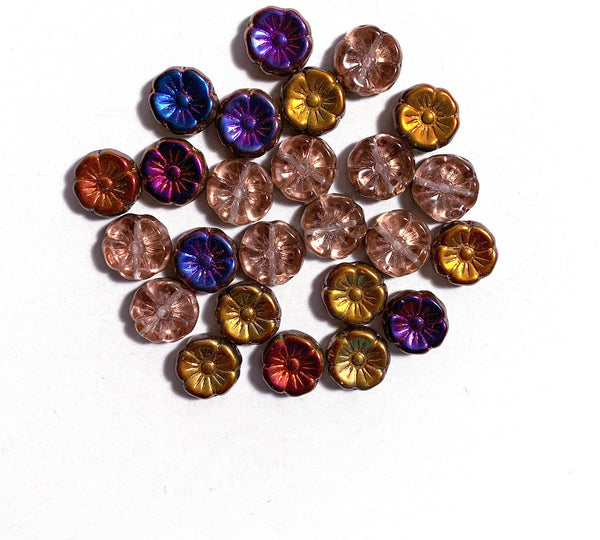 This is a set of ten 12mm Czech glass flower beads.

The color is a mix of pink, purple, gold and orange with an ab finish.

I obtained these beads directly from the manufacturer in the Czech Republic.

They are pressed glass flower beads that would make a nice addition to just the right project.
I charge the following flat rates for shipping:
$4.25 to ship any size or weight package anywhere in the U.S.
$16.00 to ship any size or weight package anywhere in Canada.
$35.00 to ship any size or weight package anywhere else.
IF SHIPPING OUT OF THE COUNTRY COSTS LESS THAN YOU ARE CHARGED I WILL REFUND THE DIFFERENCE.
If it ends up costing me less to ship a package out of the country than I charge for shipping to that country I will refund the difference less $1.50 for shipping costs.  It costs me about $14.00 to ship packages to Europe, but if the package weighs more than 16 ounces it costs about $23.00 to ship a package to Europe. If you live in Europe and you make a purchase that weighs less than 16 ounces you will be charged $23.00 for shipping but since it will only cost me $14.00 to ship the light weight package to you I will give you a refund of $7.50 as I will keep $1.50 for packaging costs.
Satisfaction Guaranteed! 
I accept returns no questions asked!
If you are not happy with your purchase please just send it back to me and once I receive the return I will  give you a full refund no problem!
If you want to return something It would be great if you would send it back to me within 30 days of receiving your order, but I am somewhat  flexible about this depending on circumstances.
The only non-returnable item: is gift cards - If I ever start to sell them!
Please send returns to:
Glorious Glass Beads 3923 Lime Ave Long Beach, CA 90807
If you have any questions you can call me at 310 294 0169 or email me at scrsshelly@aol.com
You will be responsible for paying for your own shipping costs for returning your item.  




Ten 12mm Czech glass flower beads - pink, purple, orange, and gold AB pressed glass flowers - C0111